Bunting Magnetic Bases
The new Cerface TM magnetic base developed by the Bunting Co. has a rock hard ceramic surface which is smooth as glass and applicable to printing, embossing and flatbed diecutting.
Magnetic bases will improve the make ready time and reduce down time. They eliminate the expense of quoins, nails or sticky back tape, which helps in maximizing profits.
Holding photopolymer plates with these bases makes for a beneficial and profitable tool.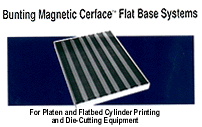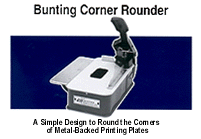 Visit www.buntingmagnetics.com for more information.