Kutrimmers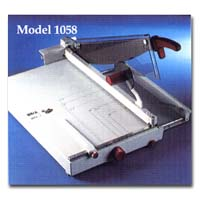 MODEL 1058-This compact versatile trimmer is one of a selection of many models suitable for a variety of tasks.
Hand clamps provide variable pressure increasing capacity and saving you time.
Extendable front guides feature measured drums with adjustment scales that are lockable in every position (via arresting knobs).
Front guide permits the cutting of strips as narow as one millimeter.
Additional paper supports allow precision cutting of even the thinnest paper.
Cutting Length: 22-1/2
Capacity: up to 40 sheets
Table Size: 23″ x 13-1/4″
Ship Wt: 42 lbs.
Solid All-metal construction
Visit www.mbmcorp.com for more information.