Photopolymer Plates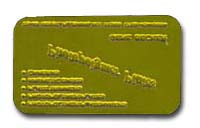 The plate material is UV photosensitive and when exposed to an ultraviolet light through a high contrast negative, the U.V. cross links the polymers and hardens the image. The unexposed portion of the negative is washed off in plain water, dried and post exposed. the plate is ready for the press in less than thirty minutes.
To print letter press you will expose the plate with a negative. To print intaglio, you will expose the plate with a positive.
Another technique, using a matched combination of a negative and positive, will produce a pair of plates for blind embossing.
And still another- using a right reading negative (emulsion down) will yield a dry offset plate.
Finally, using a positive film, right reading from the back, would be used to print intaglio.
Photopolymer plates are a very interesting medium to work with. They will hold a 150 line screen and you can make a printing plate from a drawing simply by making a negative from it, the exposing the plate.
Miraclon is a photopolymer printing plate, available with either steel or polyester backing. The many thicknesses and sizes adapt to a variety of printing applications Namely:LetterpressImprintingDry OffsetMetal DecoratingBusiness FormsBlind EmbossingCrash PrintingPantograph MastersLabel PrintingPackage PrintingIntaglioPad Printing
Rigilon plates are molding plates pressed under heat and pressure into matrix board in the production of rubber plates. After a curing time of 8-10 minutes the impression in the matrix board takes on the mirror image of the Rigilon plate.
Please refer to the following table which indicates the thickness of the plates available for each particular plate.